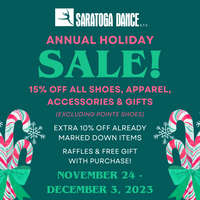 November 24 - December 3, 2023
ANNUAL HOLIDAY SALE!
15% OFF all Shoes, Apparel, Accessories & Gifts
(Excluding Pointe Shoes)
Additional 10% OFF already marked down items!
FREE gift with purchase and Gift Card Raffles in-store.
SHOP NOW
Book your pointe shoe fitting online!
Appointments are only required for pointe shoe fittings. Due to our abbreviated hours, walk-ins cannot always be accommodated. 
Click the button below to schedule your one-on-one time with our professional fitters.
RESERVE NOW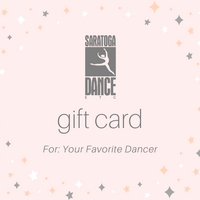 IN-STORE GIFT CARDS AVAILABLE
Gift cards are always a good idea! Place your order to mail to your recipient, or pick up at Saratoga Dance. For in-store use only.
SHOP NOW
1ST TIME POINTE SHOE FITTINGS
ABOUT US
Our store is located in beautiful, historic Saratoga Springs, New York.
CONTACT US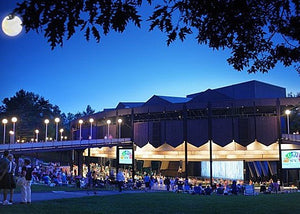 Links to local studios, companies, venues and arts organizations. Contact us to be listed.
OUR COMMUNITY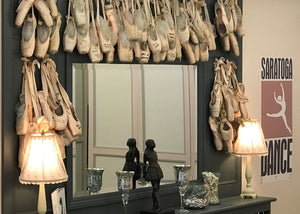 We offer special discounts for teachers, professionals and school groups!
REWARDS & DISCOUNTS
WHERE DANCERS SHOP
Owned and operated by former dancers, Saratoga Dance has been serving students and professionals for over 30 years. We carry only quality products from top manufacturers and specialize in the art of precision pointe shoe fitting. Our service and expertise have earned us the reputation as one of the top dance stores around!
POINTE SHOES : BALLET SLIPPERS : JAZZ SHOES : TAP SHOES : CHARACTER : GYMNASTICS
APPAREL FOR ADULTS & CHILDREN : ACCESSORIES & GIFTS